Field Report : Camden Crawl 2009
May 20, 2009 | by : Micky67
Friday 24th 2009
My third Camden Crawl has come around and I'm gagging for it – 2 days of Sun (fingers crossed) Sea (canal) and Sand (wiches). While I preferred it when it was a Thursday and Friday (less crowded, more committed punters) it is still the premier event in the London (new) music fans calendar. Unless you are "underage" that is and they've even got a Camden Underage this year. Little sods. Still bar the Underage bill this is the most fun you'll get with your clothes on – and they can't get served booze haha.
The Camden Crawl is basically made up of the words "Camden" (a groovy part of London specialising in Goth wear and tattoos) and (pub) "Crawl" (going from venue to venue drinking from about midday on the pretext of seeing "the next big thing"). As I am more than capable of finding the next big thing on my own using a combination of skill, judgement and seaweed it's the social element I really enjoy. This year it was sponsored by Gaymers which is a step up from Red Stripe in my book. On previous years the early bird has been able to gain access to a mini gig by a big act (I found myself close enough to smell Babyshambles and Enter Shikari at the last two – strangely Babyshambles smelt nicer) but this year there are big acts at the Roundhouse and Madness knocking about on Friday if you can find them (I didn't but heard tell of them on a bus).
As I am not over keen to see the Roundhouse acts (Enemy/Kasabian/Yeah Yeah Yeahs) I don't bother to queue for the extra wristband needed for any of those shows. As I like The Enemy most from that lot, and they cancelled, I feel vindicated. Wristband collected with no more than 30 minutes queuing I repair to Camden Lock to Twitter over a pint in the sunshine. After a brief sit down I start towards the Edinburgh Castle for Mr Bongo's Pop Quiz, pausing briefly to watch Toyah Wilcox filming a sequence at the lock that sees a "fan" approach her for a photo op. Whether this is a fan of Sheep Farming In Barnet or plastic surgery is not apparent.
I feel I do reasonably in the Pop Quiz on my own and as the scores are counted I bump into a Scottish couple I met at a Pop Quiz last year and we chat. I come second and win a handful of CDs ( Fight Like Apes album included and even a vinyl 10" of Dust Brothers remixing VV Brown). I also win a case of cider which I can collect on Sunday (the Crawl, you may note, ends Saturday). I vow to parlay this promissory note into a few pints tomorrow but today I am disinclined to mingle it with the Guinness that is flowing (rather too rapidly) down my throat.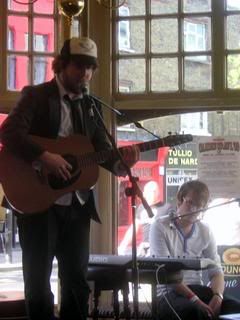 I'm off to The Spread Eagle pub for some unspecified semi-acoustic stuff put on by Andy Ross ex of Food Records ( Blur, Jesus Jones, Diesel Park West ) and a meeting with another Crawl mate, Perran from Cornwall. I get there and grab a seat and contact him, he'll be half an hour. Now, completely by chance, I see the best performance of the weekend. Matthew Kilford (helped today, usually I gather solo) is not someone I might make efforts to see given a description of his music but I would have been dead wrong. He is a soulful singer songwriter (see told you) but soulful in this case shall be taken to mean like John Martyn not (shudder) James Morrison . He is also informed by a love of the more crafted Indie (we discuss Longpigs briefly on-line afterwards) which stops it being too smooth. He is not chirpy, though downbeat humour escapes on occasion. His voice is extraordianry, a rich instrument indeed.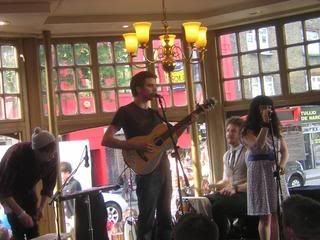 Perran arrives, as do Broadcast 2000 , who I take to be a group but retrospective research shows are one man and friends. They are pretty good, a slightly more funky Guillemots I fancy. Perran is sure one of the tracks is in an advert. I hadn't a clue but he was right – think it may be 'Get Up And Go'. The female singer gets a solo at the end which is also pretty good. It would be easy to fit in with Perran's plans but I must be strong and follow my pre-drink plan.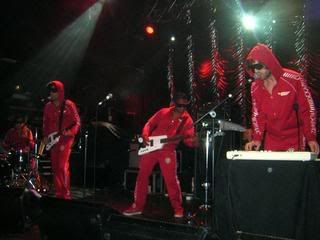 Datarock have been long on my "to do" list and they are opening proceedings at KOKO (handily near to The Purple Turtle where The Chapman Family and Pulled Apart By Horses will be flaying the punters next). I'm down the front for 20 minutes of faultless dance pop that get the packed KOKO raving from the off with older stuff so luckily I get Fa fa fa fa fa and (my favourite) I Used To Dance With My Daddy. I grudgingly have cider as there's no Guinness on tap in KOKO.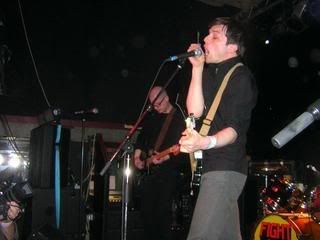 I want to say "hi" to The Chapman Family as I'm on "Southern softy, Northern git" terms with them but I mis-time and leave too early so stand around a bit with them outside. When inside it's hello to the Scots again and then stage front for 2 powerful sets of Northern Noise and very battered ear drums. I won't dwell on the Chapman's as I've reviewed elsewhere quite recently but suffice to say the powerhouse set honed to perfection hits all the marks. They will be blanking me soon enough.
As the 8th Guinness looms the cider seems likely to have bought me a ticket on the "beer scooter" and I am not emotionally well placed for a thorough discussion of Pulled Apart By Horses . I can recall that the band truly live up to the name (unlike the deeply disappointing Cut Off Your Hands , say) and my hearing is impaired through till Saturday lunch.
The back of my mind is saying S.C.U.M. at the Black Cap. Sadly the rest of me is saying weave about for half an hour trying to find a venue I have never visited before. Giving it up I come to rest at The Electric Ballroom for the last act of my Friday schedule – Wire . I arrive and attempt to find out who are on. The stage is covered in dry ice and pink light and the noise is of the downward looking variety (with a nod to The Kiss era Cure). I reckon it might be The Big Pink (it proves to be) and I probably should know from bumping into the Scot and his programme but he is at least as pissed as me (it transpires he falls down some steps at his hotel) and has gone a bit Braveheart. We clap each other manfully on the back and part to our respective viewings.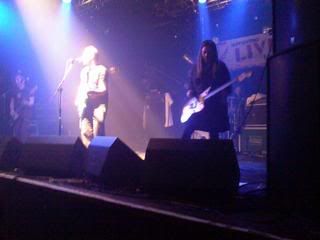 Wire do not appear or sound exactly as I expect. Familiar with the early stuff but more a fan of A Bell Is A Cup… Until It Is Struck and It's Beginning To And Back Again I am surprised how un-Industrial and indeed un-"angular" they sound. This is full in the face Rock, no posture, straight ahead. Uniformly excellent but I don't recognise much (whether they play stuff I know differently I'm not sure) – Graham Lewis is snottily combative in his between song verbals and they sound like men on a mission. It also appears we form no part of this mission – they might be playing a game but it's not The Game so I don't leave humming Kidney Bingos. There is a woman on rhythm guitar that I can find no mention of on the net. Any ideas?
Saturday 25th 2009

I wake at 6ish (bastard body clock) with a mid level hang-over, reasonable recall of Friday, the only dark cloud being the slight but distinct and uneasy feeling I may have pissed in an alley at some point. The sun shine is intermittent and a chill breeze blows but as I arrive in Camden again (after preparing breakfasts and helping child 2 (not his real name) assemble a wooden racing car he got gifted about 18 months ago but remembered this morning). Walking across Camden Lock I get a flyer for the Island Records canal boat and it seems a decent way to ease into the second day. The sails of the "My Fair Lady" are set fair for The Con (n.b. no sails really, this is a poetic fancy) and as the Island DJs play Bob Marley and Pulp we chug along the canal approx five foot before a lock. I resist the temptation of the (not free) bar but enjoy the scenes of floating detritus and various "tribes of pop" encamped along the waters edge. Many a shadow conceals a Goth enclave, Casuals (as we used to call them) frolic in pools of sunlight.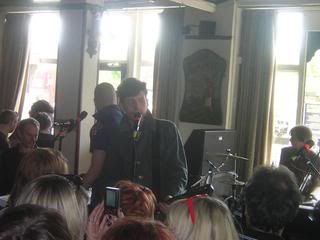 A 20 minute trip and we disembark at The Constitution at about 1p.m. and it becomes apparent the Frankmusic appearance at 2 isn't on for some reason. Rumble Strips at 3 and a Pop Quiz at 3.30 nowhere near. Having seen Rumble Strips before I decide to see a couple then ankle it quick. I really liked the Rumble Strips previously but they did sound very Dexy's Midnight Runners. They sound much less so now but sadly I don't like the new sound on the strength of the three songs I hear.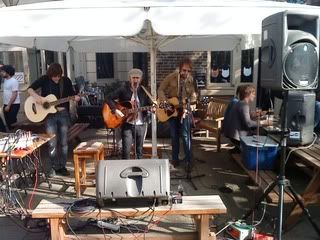 I squeeze out of the packed pub and get to The Edinburgh 10 minutes late but – phew – no sign of the quiz. A band are playing in the beer garden (they sound pretty good) but I walk past intent on blagging some drink with my chitty. Rather surprisingly after some discussion behind the bar I get a case of 24 bottles of perry. Now, while warm perry isn't my drink of choice it keeps me going all day for free. I do however give away 14 bottles including 8 for a quiz prize (liberally covered in I Blame The Parents Records stickers of course). I will gloss over my awful performance in this quiz. I repair to the vast beer garden where Broken Mile (if my notes are correct) take the "stage" (gazebo). Why "broken" and not "crooked" I do not know. They are indebted to much classic rock and clearly worship Weller with the feather cuts on show. If you want classic rock (Faces, Small Faces) then they are bloody good at it. The singer no doubt gets compared to Rod and tiny Stereophonics man but if I had to pin it down I'd say Gary Holton of Auf Weidersien Pet and the desperately under-rated Heavy Metal Kids (and Holton/Steele with Casino Steele but that's too anal).
My bag bulging with pear fizz when I get to The Purple Turtle for Flashguns . I had The XX pencilled in but a stray Tweet persuaded me that Flashguns had ripped Camden a new arsehole the night before. Although their slightly more prog take on Friendly Fires is not really to my taste they have something – and by God are they young. The "uniform" of grey shirts they favour is obviously a low key attempt at band identity but it made me think of prefects. They (and especially the singer guitarist) are very talented and seem particularly focused. A focus that is a little off-putting in 16 year olds to my mind
I must take exception at right wing press and it's depiction of "drunk Britain" – I couldn't part with my Perry to save my life as far as strangers went. Maybe I appeared to be a rhohipnol carrying nasty but I rather think the offer of warm pear cider for free in my day would have been leapt at. I managed to take it successfully into all venues I tried and only depleted it by bumping into my Scottish friends in the street and Rescue Cat outside the Jazz Café as he was also going to the Newham Generals (obviously they attract the white middle class massive). He is with the female singer I saw with Broadcast 2000 whom it appears is working with him. The Generals are from (keep up now) Newham and are one of the few sops to Urban music on the Crawl. They are just what I need at this stage in the proceedings, a chance to dance (well, what passes for dancing) and feel a bit more in tune with the world at large.
They won't shatter your preconceptions of Hip Hop but the Rave based DJ backing is a slightly new twist to me. We get some not daisy fresh but fun call and response ("We say hot – you say pepper" "We say let's – you say 'ave it") and the slightly infamous "Bell The Slags" to finish. They make a great show of not playing it due to it's suspect lyrics but finally "give in". The central conceit of the title refers to a stage in the evening when the young men gathered together, well into an evenings refreshment, feel the need for female company and Bell The Slags. It may be dubious but non e of the women present seem appalled and the dark moody chorus makes it rather unsettling. Can you guess what they rhyme with "slags"? 10 points and no credit if you guessed "shag".
I always try to go to Dingwalls on the Crawl (not least because you can always get in). Perran had come to London a day early and seen Blk Jks somewhere. That is reason enough to catch them here. A description of them (possibly the programme) said "shoe-gaze" from South Africa. Not really – "pst rck with a nod to Kng Crmsn and a brilliantly fnky drmmr" gets my vote. They are musically superb and had I not given up worshipping "musicianship" around 1990 I'd be raving. As it is they were a great spectacle that I can't imagine really enjoying in other circumstances. Would like to hear something out of this context to see though.
And so the night air hits me for the final lap. I was split between The Fall at the Electric Ballroom and 808 State at KOKO. I decide I really ought to see The Fall (and reckon I'll have more chance getting in). The queue at The Electric Ballroom seems oddly long and after a while of being told that no-one will be admitted – "why are you wasting your time?" – and murmers of The View playing I leave for KOKO. I might have hung on for The Fall but The View are shit live. There are no queues at KOKO so I'll be having it large for my last 45 minutes. It must be said that the extra wristbands for the Roundhouse this year has cut down on the waiting outside other venues.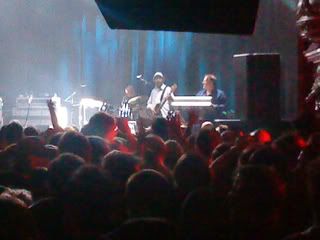 808 State are playing the auidience like pros – lots of fookin' let's 'ave it, God rest Tony Wilson & God bless Johnny Roadhouse, this ones for the Hacienda. Pacific is greated like Stairway To Heaven. I am waiting for In Yer Face and I am not disappointed. A fine, bangin' half hour before I take my leave.
Ah, well. Only a couple of days till Stag & Dagger in Shoreditch.
Comments
comments