Field Report: Stag & Dagger 2009
After dropping off a couple of Extradition Order album promos I went to Church. Don't worry – I'm still an atheist – the wristband collection point was a big old church on Shoreditch High Street. A brisk walk to Brick Lane (I already had a loose plan of action from the website listings) and I ducked in to Rough Trade East to collect unsold copies of my Docksud 7" (copies available from the website at a bargain £1.99, pop pickers) and collect my (v. meagre) sales monies. Lucky I did because I got to buy the DJ Foundation LP at last and hear wonderful Afro-Beat by Vieux Farka Toure . The guy at the counter told me he was Ali Farka Toure's son and I nodded knowingly. I didn't have a clue who Ali Farka Toure was, I'm afraid, but when he said what I was hearing was just the soundcheck I knew I was hearing class.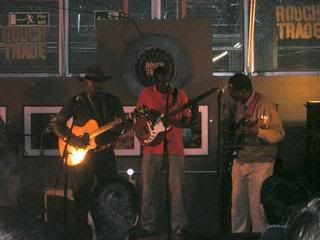 A quick google later shows I should indeed have heard of Ali but, Hell, you can't know everything. What I hear is as pleasing as anything I'm likely to hear, polished but alive Afrique with a slight Blues feel. I know in my heart of hearts I should stay to hear more but I didn't pay for this and I want my monies worth. Also I am a little "thirsty" after my walk. So a hop, skip and jump later I am in the near empty top room of Vibe Bar snugly centre stage on a pouf, pint in hand for Baby Venom. Never heard of them either but although the performance is slightly apologetic they are an interesting collision of full on rhythm and 80s indie synth. The room fills out as they go on playing, two synths on a butchers block, male/female vocals and a well into it drummer. When he swaps to the front with the other bloke to sing and play keys he seems less comfortable, the first guy was a more obviously Twee frontman.
Trailer Trash Tracys seemed a more familiar name though only just. A rather Gothic concoction with the main standout from the norm being the seated bassist who had contrived a sound that echoed the one on the Twin Peaks theme. Quite interesting and with excellent vocals – but hand on heart a little dull.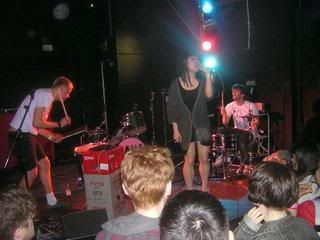 Across the road at 93ft East the squat party/rave act Teeth!!! are already on and having read about them on the train up I bustle down towards the front for a few songs. The line-up is vocals/drums/keys, drums and the style is a version of the sort of ragged dance music that seems rife in Brooklyn – Gang Gang Dance etc – basic tracks are jammed over to produce mutating grooves bringing the audience near (and sometimes within) the creative process. This I am enjoying.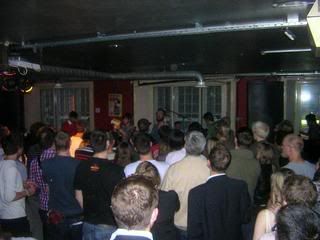 Phantom Band seem to have a buzz building and certainly a crowd has gathered at the Vibe Bars main stage. I presume they are named after Poppy Nogood & The Phantom Band by Terry Riley and they sound sufficiently experimental to make that likely. I can't really see the band as the "stage" is the floor and there are too many people in front but the sound is compelling. The sound of the first song is pulsing, the vocals deep like I Iggy Pop intoning a Black Mass. Then the vocalist switches to a register like Jeff Buckley intoning a Black Mass. I'd rather wanted to dislike them as it seemed there was a sniff of hype but on this showing, sadly they are rather special, if not terrifically lovable.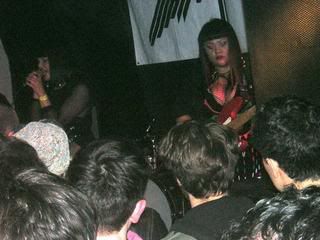 An Experiment On A Bird In The Air Pump look good (in a R&R sense) and I've been after seeing them for a while so it's up to Vibe Bar stage 2 for a peak. Which is all I manage as it has become rather busier than in was earlier. The peak suggests Suicide followed by The Banshees on mogadon. IE pretty good but not startling.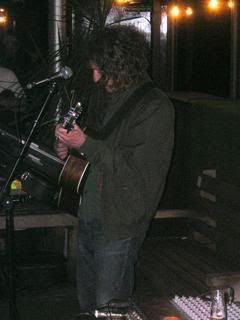 I make my way out with some time to kill before my trek back to the Shoreditch venues and as I come out John Power is playing solo on the acoustic stage. I've walked out near the stage and a little bit further brings me about 2 metres from his side, by the sound desk. Which gives me a close up view of the rather unedifying process whereby aggressive Londoners are trying to get the young sound man (who I think is nothing to do with Power) to turn down (presumably the sound is over a council limit but it is pitifully low) while smiling Scousers with no hint of humour in their eyes look ready for the off. Nothing actually DOES kick off, despite a bit of abuse on both sides and me having my camera at the ready for news agency sales-worthy footage. The power goes off before the Power and a small group of us stand around him to hear him play unamplified for 2 more songs. Best not to have an acoustic stage if this is the volume they can have and not a great way to treat a music man with this CV. I mean I was not a big Cast fan but this guy was in The La's, for fucks sake!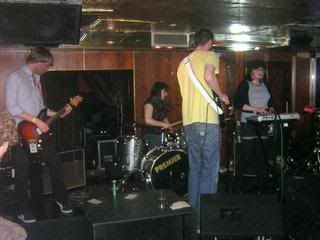 Navvy (@ Last Days Of Decadence, fact fans) are reassuringly DIY and a fully paid up Indie act. Two girls, two boys – not actually ramshackle but I imagine the creative process here is in it's infancy. Highly rhythmic, with stabbing but quite Twee keys and a rather rifftastic guitarist. The bassist/singer starts with his back to the audience and rotates a little as the set continues. "If you like….then you'll like them" for Navvy would be Das Wanderlust, probably.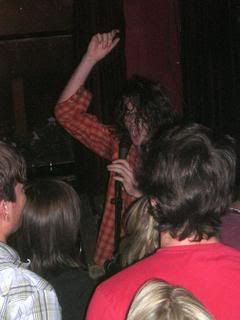 Crystal Fighters are upstairs at The Horse & Groom, and I manage to get in pre start to grab my place, sweating between a large fake pot plant and a leather settee. I can't actually see much, as the band are on the floor, but I have a little bit of space. It could be the sweating. Crystal Fighters are messy and fun – rather than the soundtrack to a festival tent on drugs in the small hours they ARE a festival tent on drugs in the small hours. They are a good time dance band making a spontaneous party from base elements of instruments and beats. They would need some pruning and polishing in recorded form to keep their format working but with the right ringmaster they could make something most excellent.
DJs are cutting up and a proper party is just starting. I must creep back to "the sticks" and let the beautiful people carry on.
Comments
comments